Chiropractic Care in Boise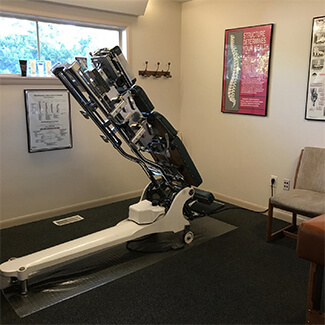 Chiropractic is that science and art which utilizes the inherent and recuperative powers of the body. It maximizes the relationship between the brain, spinal cord and spinal column and its immediate and extremity articulations. The role of an optimized brain-body connection through specific chiropractic care in the restoration and maintenance of health.
Benefits of Chiropractic Care
Most people are unaware that all it takes to disrupt the function of a spinal nerve root by 50 to 60% is the weight of a dime pressed up against it. It is the job of chiropractors to remove nerve interference and restore function. Here are some of the common benefits that most patients experience when this occurs:
Better sleep
Calmer digestion
Enhanced immune system function
Increased energy
Optimized pregnancy
Reduced response to stress
Our State-of-the-art Techniques
We use a variety of techniques and modalities to get you out of pain quickly to optimize your wellness potential:
Spinal Adjustment techniques: Diversified, Gonstead and Thompson Drop Table
Bracing and taping
Custom orthotics (Orthofeet, Amfit and ComfortFit)
Extremity adjusting
Soft tissue work
We place an emphasis on quality over quantity. Most of our spinal patients only require 4-6 visits to eliminate their pain and regain their function. Do you have a problem we can help? We would love to welcome you to our caring office as a new patient.
Please contact Boise Sports Chiropractic Clinic today and book a convenient appointment!

Chiropractic Care Boise | (208) 377-9930